LUNA PARK'S TRANSITION

Charleston's Luna Park caught fire just like many other Luna Parks did. The company was in financial trouble and had extended itself much too far. Did the fires have anything to do with this? No idea. All we know is that few if any Luna Parks were rebuilt. Charleston's fire started in the pool house, and quickly spread to the skating rink and the dance pavilion. It also set the roller coaster on fire, which was almost impossible for the fire dept to put out. The houses surrounding Luna Park were also in serious danger of going up in flames, as some were actually smoking from the heat. Ironically, the fire was started by a blowtorch that a workman had use to do a repair on the pool house. It's been my personal experience that the use of torches and welders have started a huge number of fires in the country. During the fire, there were repeated explosions, caused by ammunition used in the shooting gallery. This caused people to hide for blocks around. The park was to open in a matter of days for the summer, but of course it never did. Damage was thought to be $100,000 while insurance was around $70.000.
In 1924 it was decided to bulldoze the park and build new homes....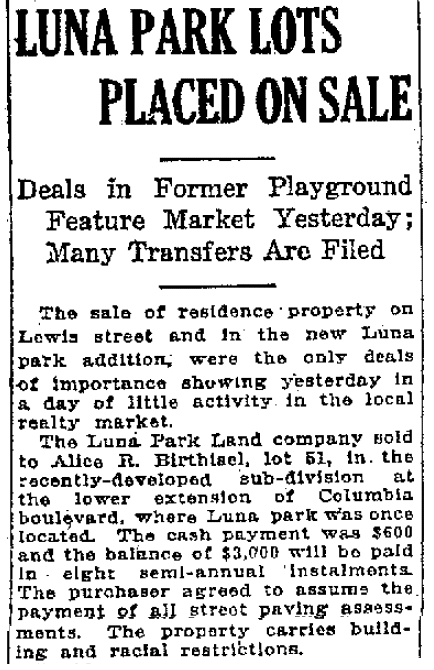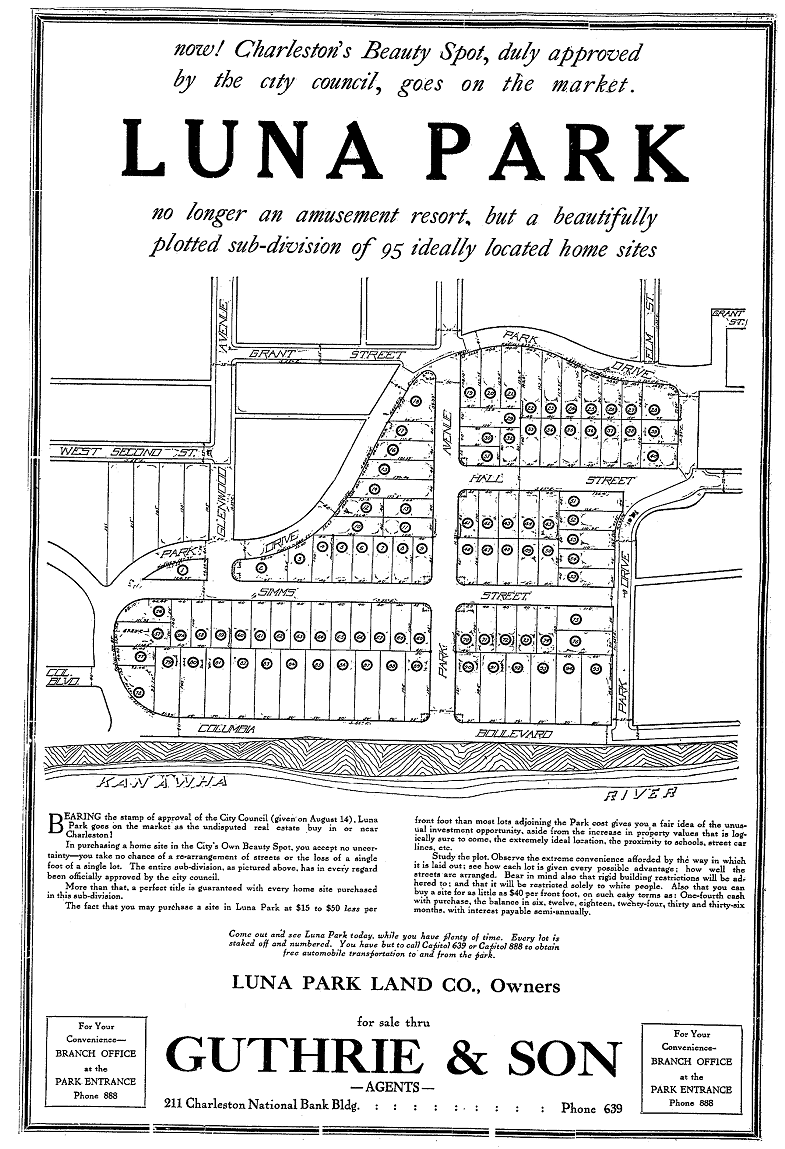 As you can see, other than a couple of street name changes, the property is today exactly like this map.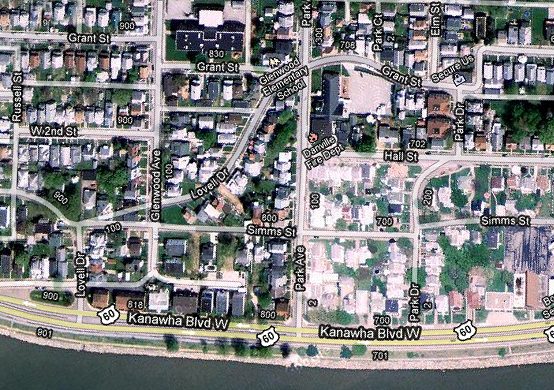 Luna Park was built by J. B. Crowley in 1912 on the north bank of the Kanawha River in Charleston. The amusement park occupied seven acres on what had been a three-hole golf course. At present, the park's site is bordered by the river, Park and Glenwood avenues, Park Drive, and Grant Street.

At the main entrance on Park Avenue stood a large wooden fence with two flag topped spires. Behind the fence, a footbridge led to level ground where park goers could ride the Royal Giant Dips Coaster, a merry-go-round, and a Ferris wheel; play games of chance and skill on the midway; and picnic under shade trees. Other park attractions were a zoo, skating rink, boxing ring, and dance pavilion. Special entertainment included free outdoor movies, hot air balloons, and trapeze artists. People walked to the park or rode streetcars. Excursion boats from Gallipolis and Point Pleasant stopped to let off passengers.

On May 5, 1923, a fire started by welders working on a new swimming pool destroyed most of the park. Although Luna's owners announced that they would rebuild, the park never reopened. The walkways were eventually paved and houses constructed on the site.




© COPYRIGHT
All content including articles and photos on this website Copyright 2013 by J. Waters. All images on this website are used with permission or outright ownership of J. Waters.
All newspaper articles are courtesy of the Charleston Gazette or Daily Mail for the express use of the author. You do NOT have permission to use any image, article or material without permission from the author.
You do NOT have permission to pull photos from this website and post them to Facebook or any other website.
Any material used without permission will be subject to creative copyright laws.