AMAZING LUNA PARK PHOTOS
Almost everyone has seen the postcard photo below of the entrance to Luna Park, but scroll down for a real treat!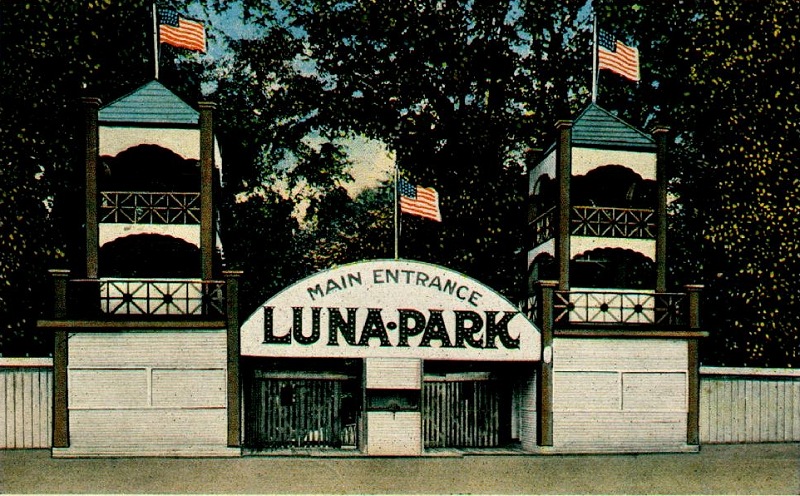 Frederick Ingersoll (1876-1927) was an inventor, designer, and builder who created the world's first chain of amusement parks (known collectively as "Luna Parks" regardless of their actual name) and whose manufacturing company built 277 roller coasters, fueling the popularity of trolley parks in the first third of the Twentieth Century.
Charleston's Luna Park was just one of Ingersoll's designs.
Ingersoll was born in New Jersey, one of five brothers. By 1900, he had moved to Glenfield, Pennsylvania, a community on the Ohio River near Pittsburgh.
Ingersoll committed suicide in Omaha, Nebraska, on 23 October 1927. In 1929, former roller coaster designer of Ingersoll Construction, John A. Miller, eulogized him by stating, "We owe all the success of the amusement park to Fred Ingersoll.
Locally, John Crowley and the Crowley Brothers owned Luna Park . (they also built the Holly Hotel on their home property, among other businesses) Later, they sold it to Sam Moore (Moores Book Store)
FOR THE VERY FIRST TIME, HERE ARE LARGE SCALE PHOTOGRAPHS OF THE INTERIOR OF LUNA PARK!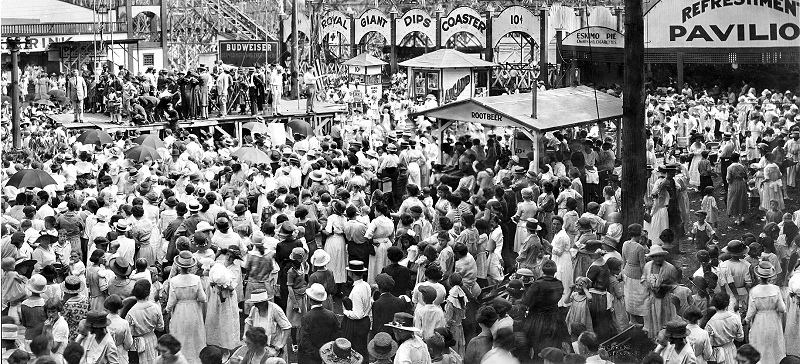 I have been searching for interior shots of Luna park for 35 years. These finally surfaced a few years ago.
This amazing photo was taken circa 1914 at Charleston's Luna Park. There appears to be a 4th of July celebration going on, with many dignitaries (possibly the Governor) and some folks dressed up as clowns and entertainers. You can see many things in this photo: A Budweiser Beer sign, an Eskimo Pie concession, a Root Beer stand, roller rink, and the famous "Royal Giant Dips Roller Coaster" for only 10 cents a ride. Luna Park opened in 1912 and burned to the ground in 1923 and never re opened. It was built on the site of a 3 hole golf course. As a real treat, I have uploaded this photo very large so that you can see it better. Be aware that it is about 1 meg in size, so you'd better have high-speed internet....
See the very large photo here!
( After the photo loads, click on it to make it much larger. Click your "Back" button to return )
MORE LUNA PARK PHOTOS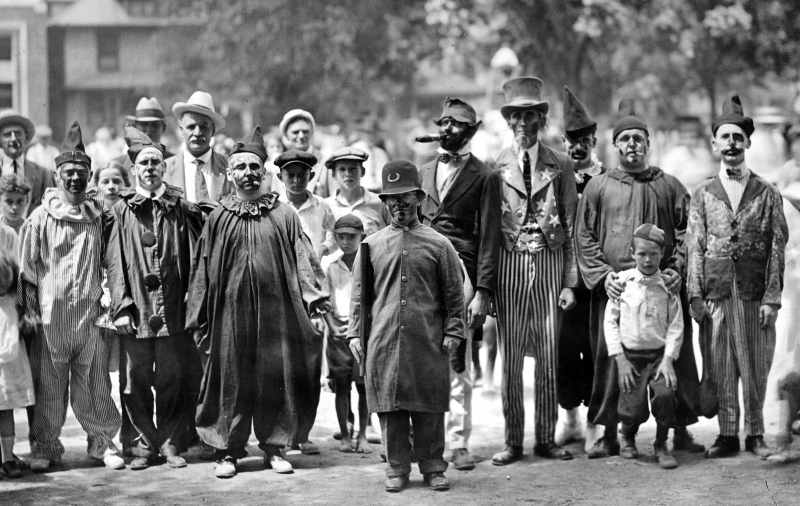 These characters were part of the festivities in the second photo. It's no wonder many kids were afraid of clowns!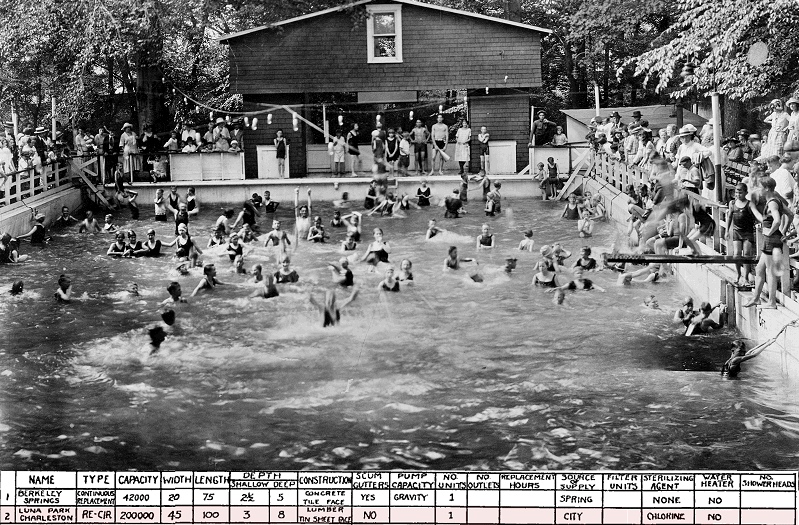 You're looking at a VERY rare photo of the Luna Park pool. The information that I attached to the photo came from an old WV Health Dept book that describes every swimming pool in the state at that time. It says that the Luna Park pool was constructed of "Lumber & Tin Sheet". The pool held 200,000 gallons of water, and it's size was 45 feet wide by 100 feet long. The shallow end was 3 feet deep while the deep end was 8 feet. The water was supplied by the city and was chlorinated (at a time when Typhoid was rampant). It was this pool believe it or not that caught fire which set the rest of the park ablaze, ending the parks life. However, in 1924 and in 1925 water was so high in the Kanawha River, it covered this property with ten feet of water, so it wouldnt have lasted much longer anyway.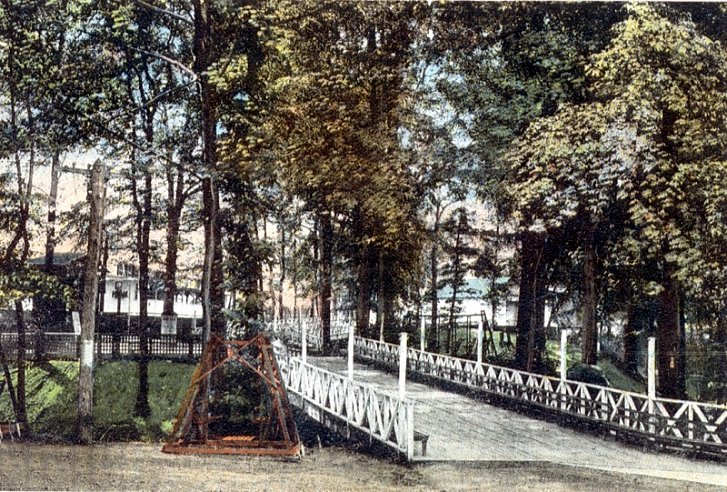 Another park entrance. Back in the day there were creeks and gullys that needed bridges in order to access Luna Park.
ABOUT THE LOCATION:
People today often wonder why the streets in the area of Park Ave near the Boulevard are so crooked since all of the surrounding streets are so straight. Luna Park is the reason! Those streets follow the old Luna Park walking paths. The entrance to Luna Park was on Park Ave., while he park was bounded by Park and Glenwood Ave's, Park Street, Grant Street and the river.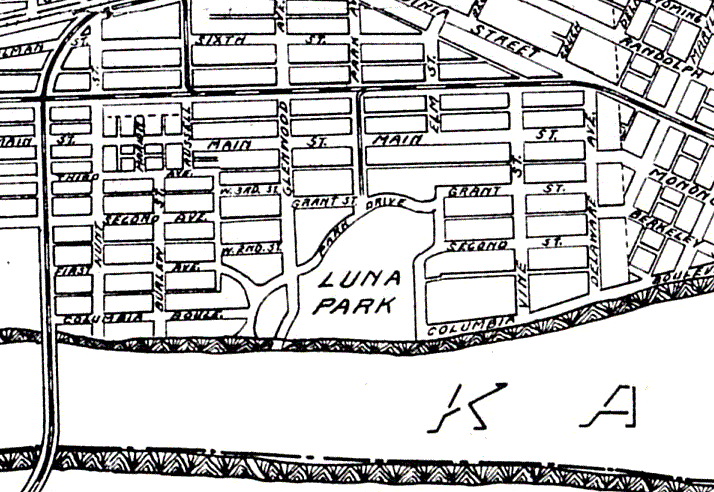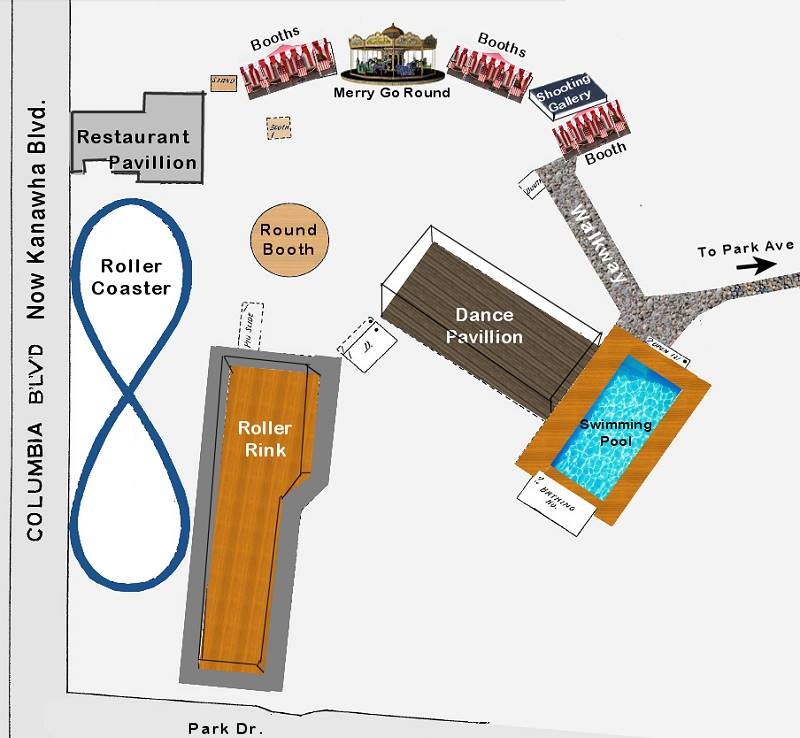 This graphic shows the exact layout of Luna Park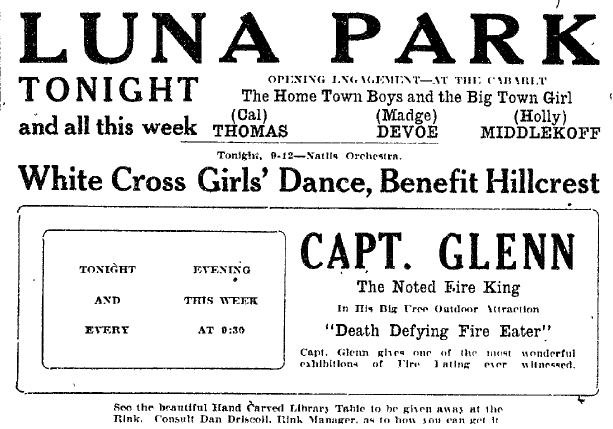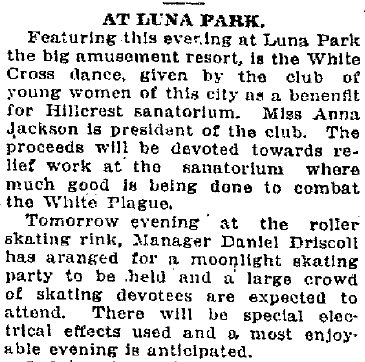 Luna Park was an amusement park in Charleston, that was open to the public from 1912 until 1923. Located on the western side of Charleston on the north bank of the Kanawha River, the park was a popular destination that featured a roller coaster, a dance pavilion, a public swimming pool, a roller rink, and live entertainment. Admission to the park cost 15 cents per person; a ride on the Royal Giant Dips roller coaster cost one dime per trip. It was a trolley park served by the Charleston Interurban Railroad Company.
The primary attraction at Luna Park was the 45-foot-by-100-foot community swimming pool, which held an estimated 200,000 gallons of water. Unlike most pools of that size, the Luna Park pool was not made of concrete but of "lumber and tin sheet," according to a report by the state Department of Health. A local newspaper reported in 1913 that 15,000 visited the park in the afternoon, followed by an evening crowd of about 16,000; street cars were carrying passengers to and from the park at a rate of about 1200 an hour. Others arrived by steamboat.

In May 1923, the Royal Giant Dips caught fire and was destroyed along with most of the park. Despite attempts by ownership to raise the money to rebuild Luna Park, it was never resurrected. Eventually, single family housing was constructed on the park grounds.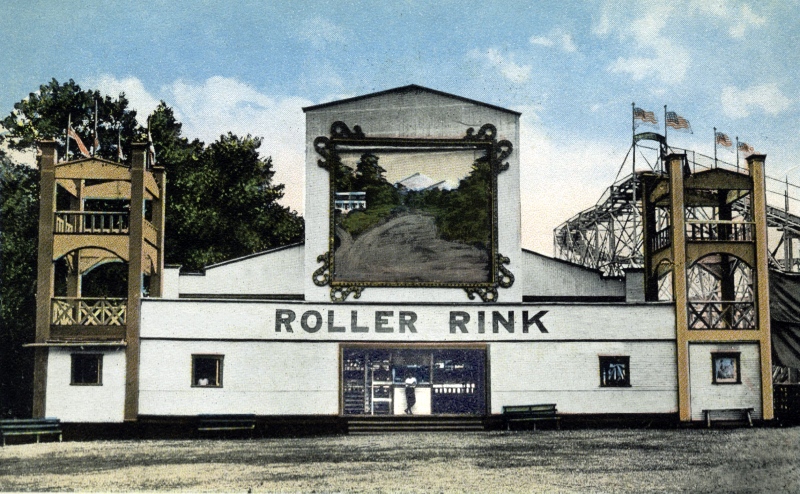 The Luna park Roller Rink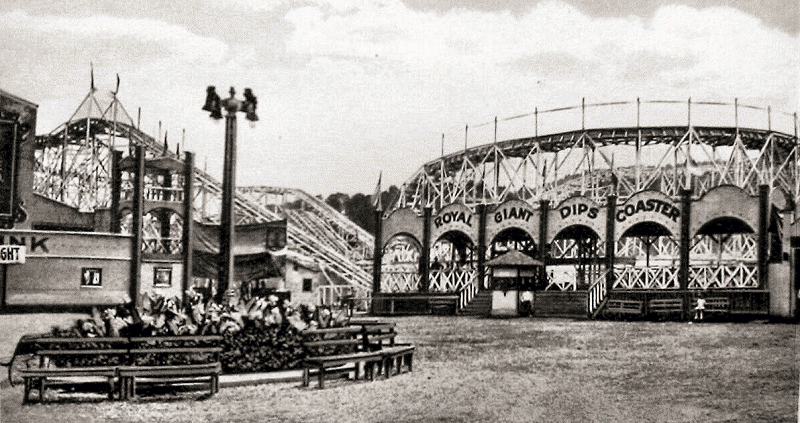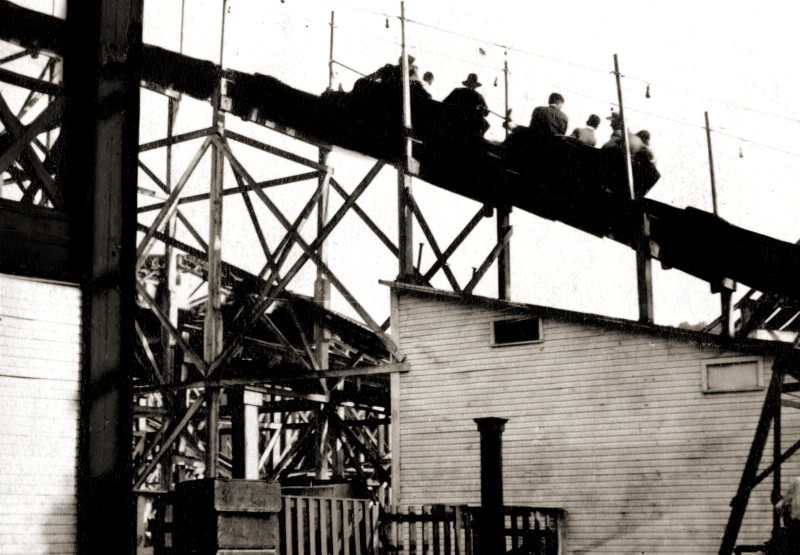 One of the few known personal photos taken in the park of the roller coaster.
Photo courtesy of Sherry Hill
TO LEARN MORE ABOUT THE FATE OF LUNA PARK, CLICK HERE.
I hope you've enjoyed this opportunity to view these very rare photos.


© COPYRIGHT
All content including articles and photos on this website Copyright 2013 by J. Waters. All images on this website are used with permission or outright ownership of J. Waters.
All newspaper articles are courtesy of the Charleston Gazette or Daily Mail for the express use of the author. You do NOT have permission to use any image, article or material without permission from the author.
You do NOT have permission to pull photos from this website and post them to Facebook or any other website.
Any material used without permission will be subject to creative copyright laws.