Kanawha City at 27th Street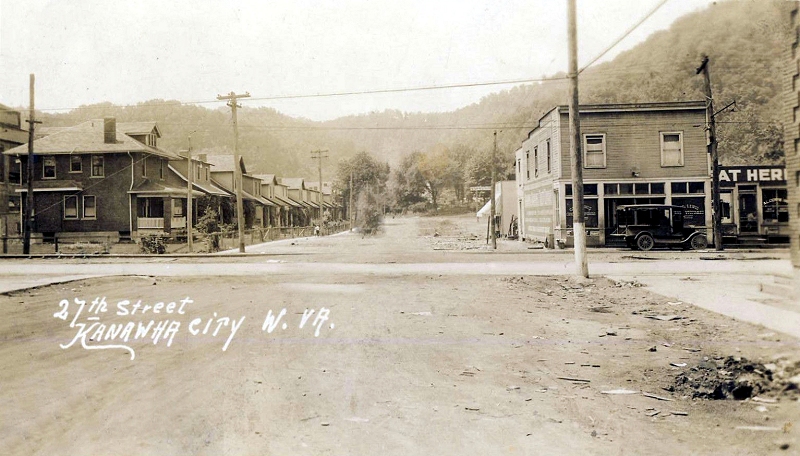 See larger photo HERE

This is an interesting photo for a couple of reasons: First, you're looking at what is today 57th and MacCorkle Ave. The streets in Kanawha City were numbered completely different from the teens into the 1930s, so

over time, 27th Street became 57th Street

.

The glass plant is immediately to the left in this photo. Straight ahead is a cemetery, which apparently became known as the Donnally Cemetery (also the Gay Family Cemetery) when the Donnally Cemetery was moved from Kanawha Ave and 27th (57th) Street. It was permanently moved in 1956.

The houses on the left were plant managers homes.

The signs on the corner building reads "Lewis Vegetables & Meats". Next door is a restaurant. In the back it says "Star Restaurant", which could be the back entrance. Not shown in the photo was the old Lindy Theater.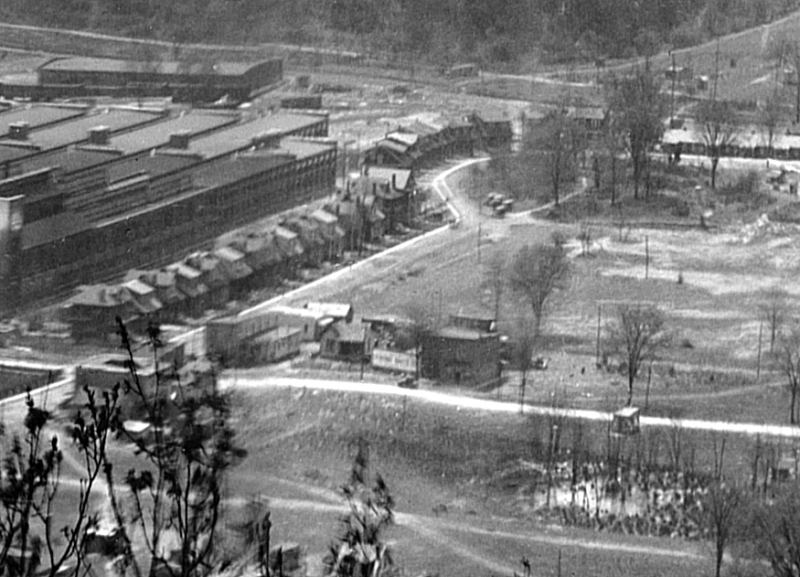 Here is the same view from the air. Now you can see the houses lined up in front of the glass plant and the cemetery.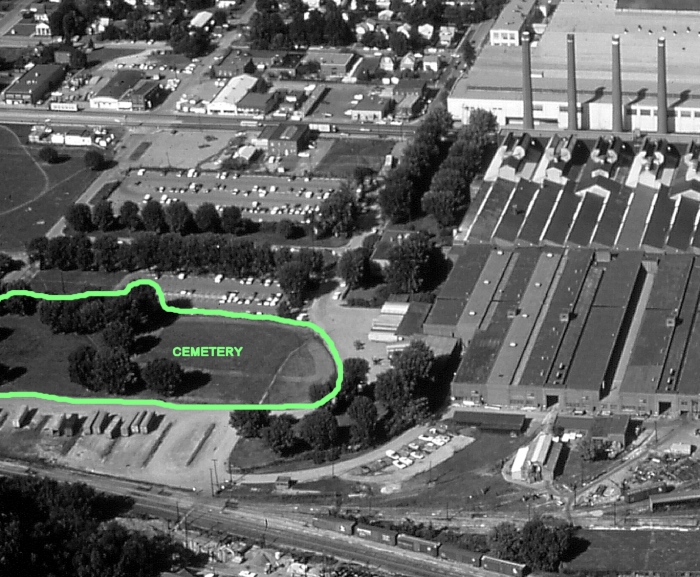 View from the back side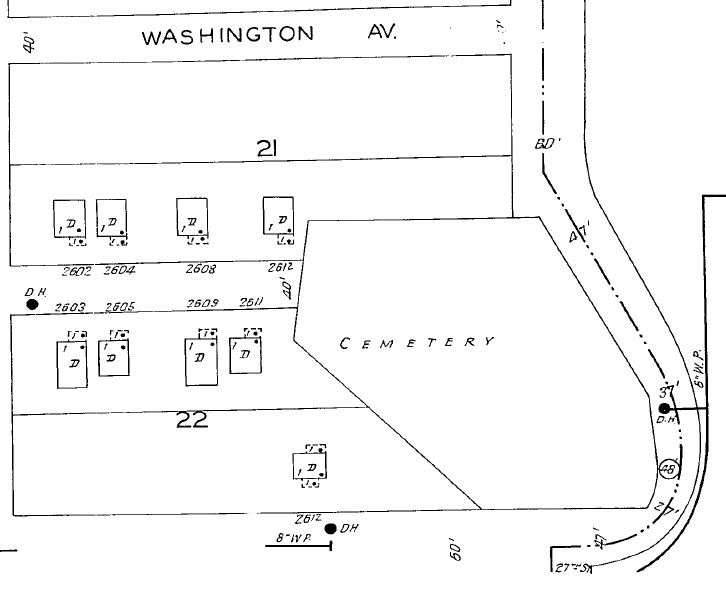 Guess what's built on that cemetery today?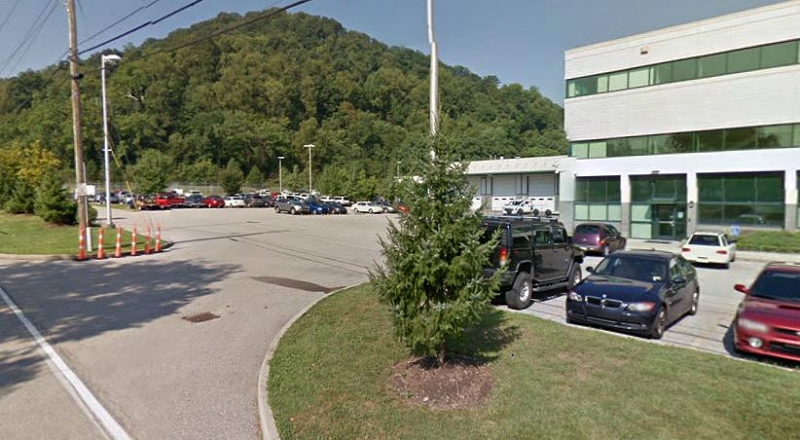 The DEP
THE CEMETERY MOVE



Libby Owens owned 50 acres on the East side of their plant, to be used for expansion. But when the Turnpike was built, it took 40 of those acres for the bridge and interchange. So Libby had no choice but to expand West. Houses and a cemetery stood in the way however.

The article below explains the move. Notice where it says "The old Donnally Cemetery, located at the SOUTH end of 57th Street is being abandoned..." This is the first reference to the cemetery in the above photos as being the Donnally Cemetery.

The article is hard to read, so e-mail me if you have questions.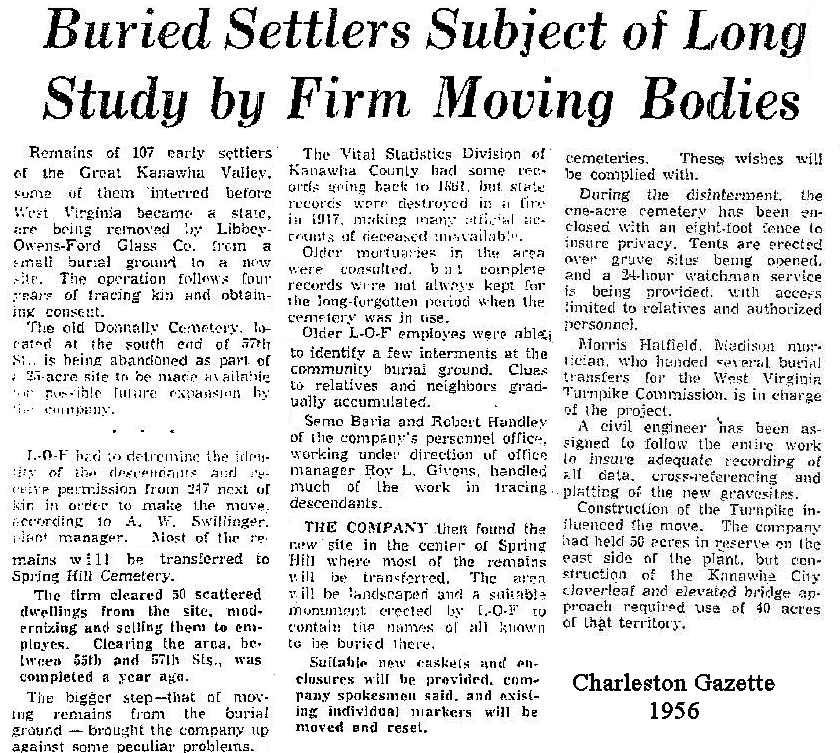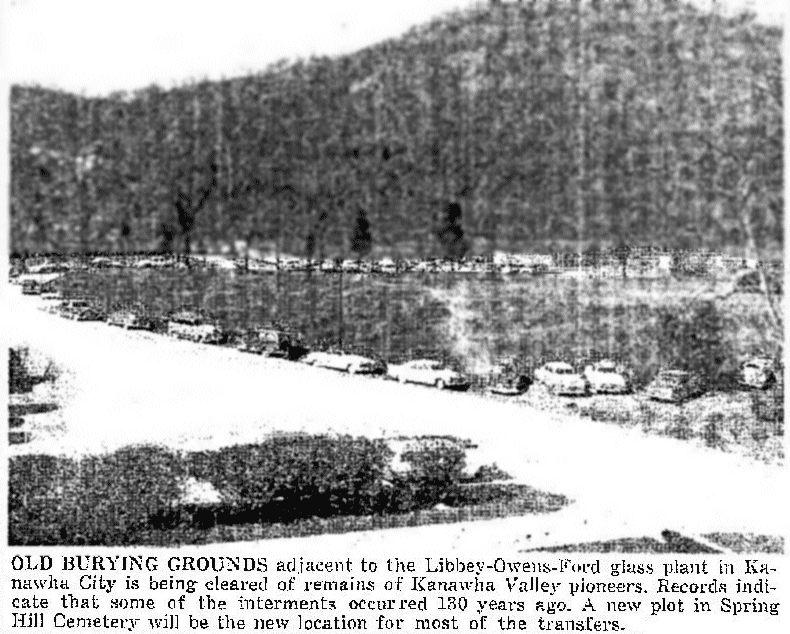 Below is the marker installed in the Spring Hill Cemetery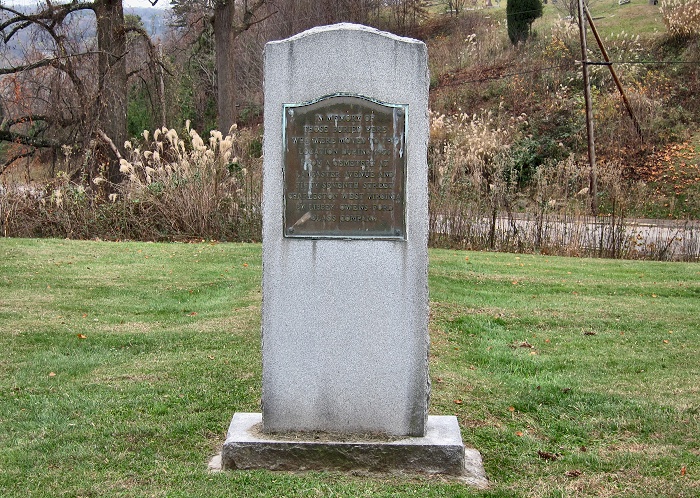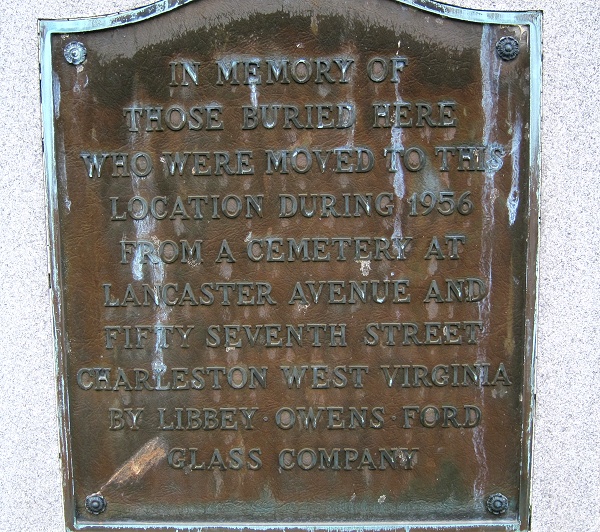 AND WHILE WE'RE IN THE AREA....
The Daily Mail Article below is from 1941
The Donnally Cemetery was several blocks away towards the river on 57th Street and Kanawha Ave. for many years. The bodies at some point were moved to the cemetery shown above, and later moved to Spring Hill Cemetery.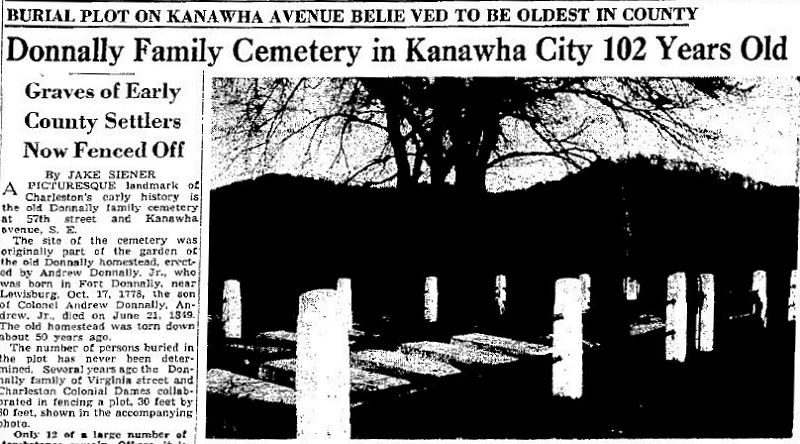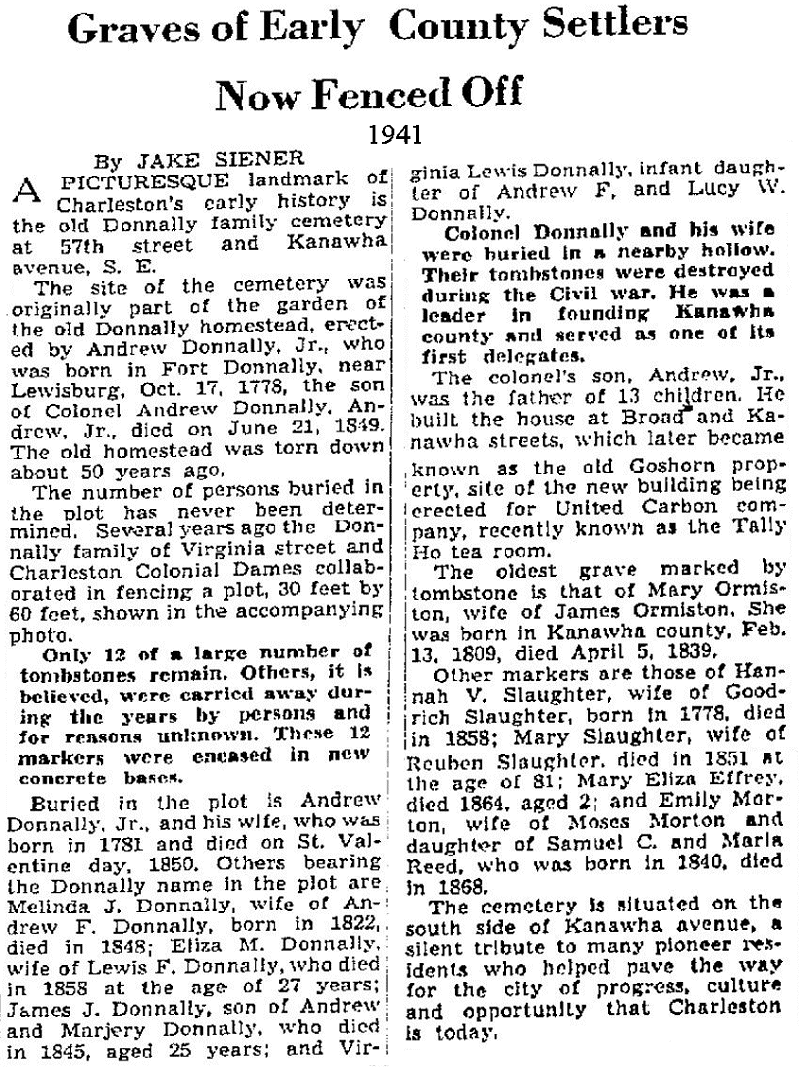 The Tie-in with Daniel Boone.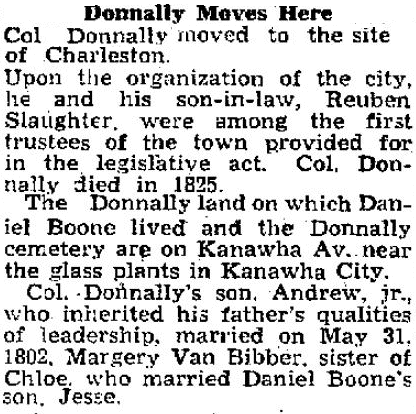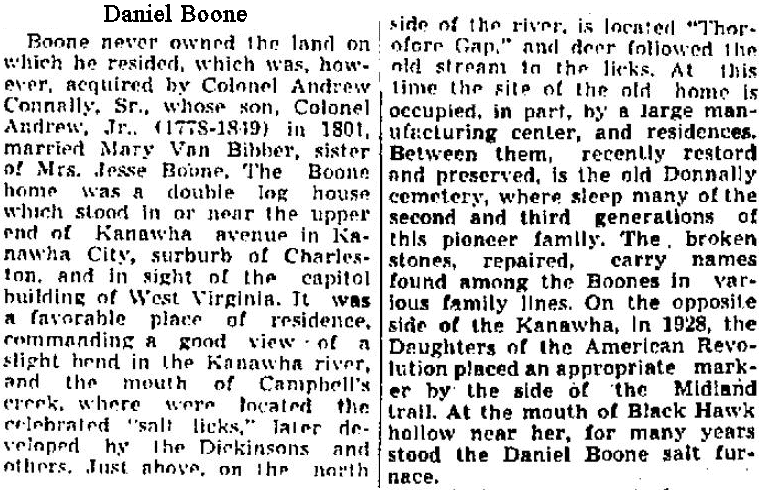 For those who lived on this block, click HERE to see a map of homes from 1933
Side note: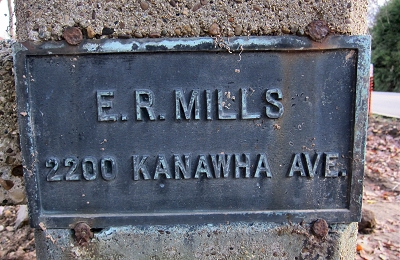 This old address plaque is on the property at 5200 Kanawha Ave.
It shows just how the addresses have changed.