TOTTENS SERVICE STATION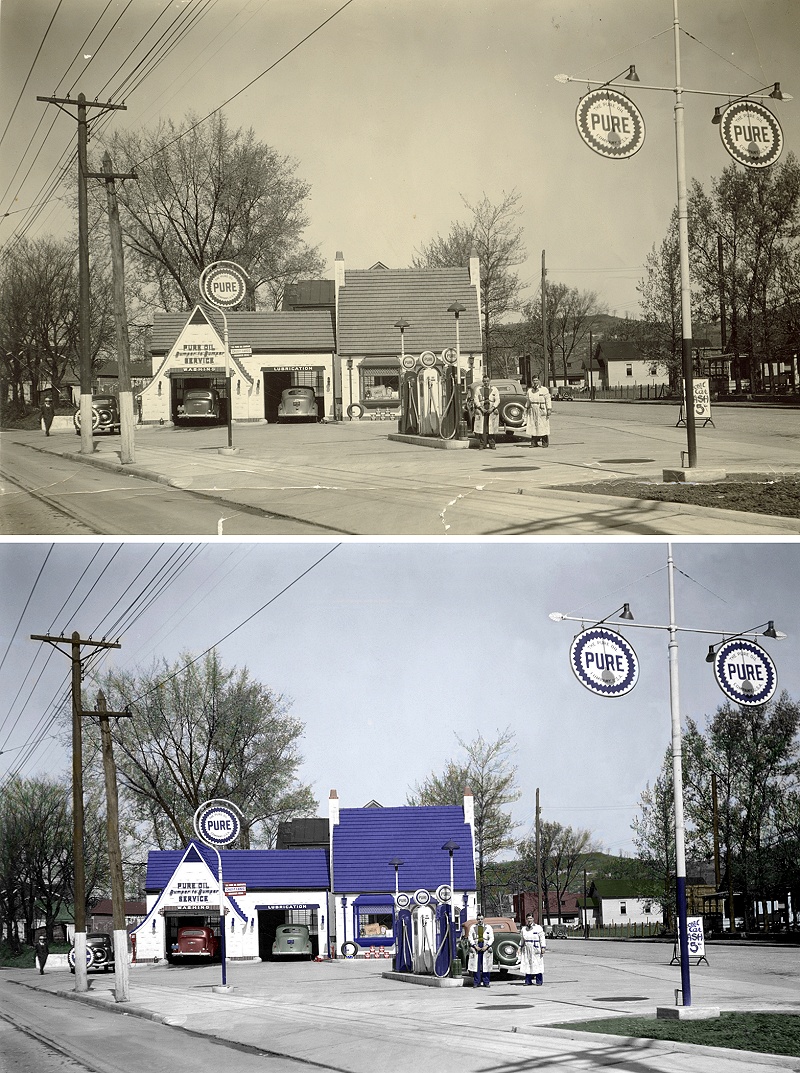 Above you see a before and after photo of "Bus" Tottens service station that I hand colored. This station sat at 5 Corners on the West Side and in fact the building is still there, painted a God-awful purple and being used as an auto clean-up business. That's Bus Totten on the left and he was a distant relative of mine, (Tottens being the mothers side of my family.) This photo was taken in 1938 and is one of my favorite photos. Below is the Ad that appeared in Sept of 1923 when the station previous station opened on this spot..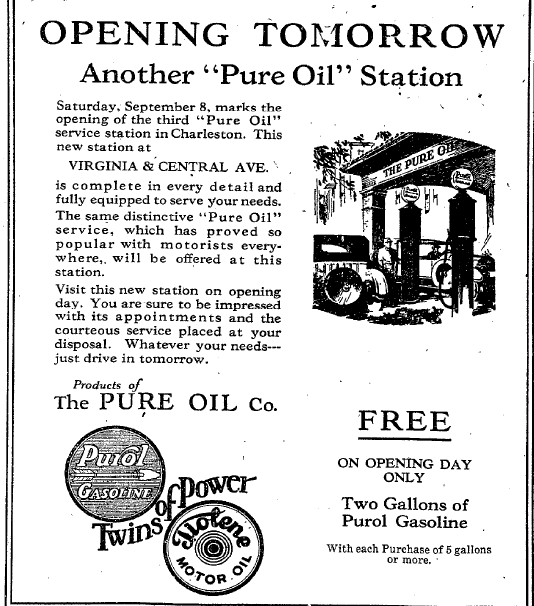 TODAY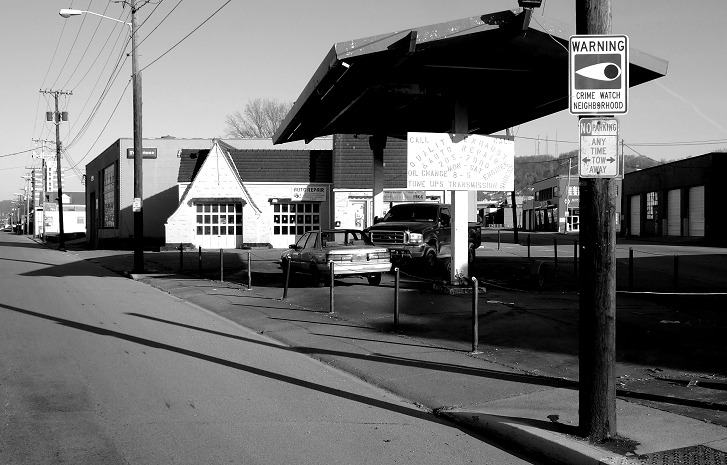 This station needs to be saved!
Did you know that stations like this have been listed on the National Historic Landmark Record?
We have one of the finest examples anywhere in the country, and need to take advantage before it's too late!
BACKGROUND
Gas stations did not become popular back in the day. In fact, people generally regarded them as filthy firetraps. They didn't want gas stations located anywhere around their homes or businesses.

The way this building was designed changed all that. The self-trained architect Carl A. Petersen came up with the concept in 1926 for the Ohio-based Pure Oil Company. The general idea was to build a safe, efficient gas station that even the neighbors could love.

Soon, just about every Pure Station around the country had this distinctive English Cottage design. Each was painted white and featured a sharply pitched roof topped with blue-enameled terra cotta. Back in the day, both chimneys would have been adorned with large "P"s. These were prefabricated buildings, made of steel and faced with brick or stucco. They were trimmed with faux shutters and cute flower boxes.

In the end, Petersen's idea of transforming the gas station outgrew his original concept of placating neighbors. The distinctive architecture, common color scheme, and suburban design touches turned out to be a key first step for the entire oil industry toward what we would think of today as branding strategies.

Petersen's cottages continued to be built into the 1950s. Ever since, they've been slowly but surely disappearing. The articles about them that I found don't have a firm number on how many are left, but preservationists seem worried that more and more of them are disappearing.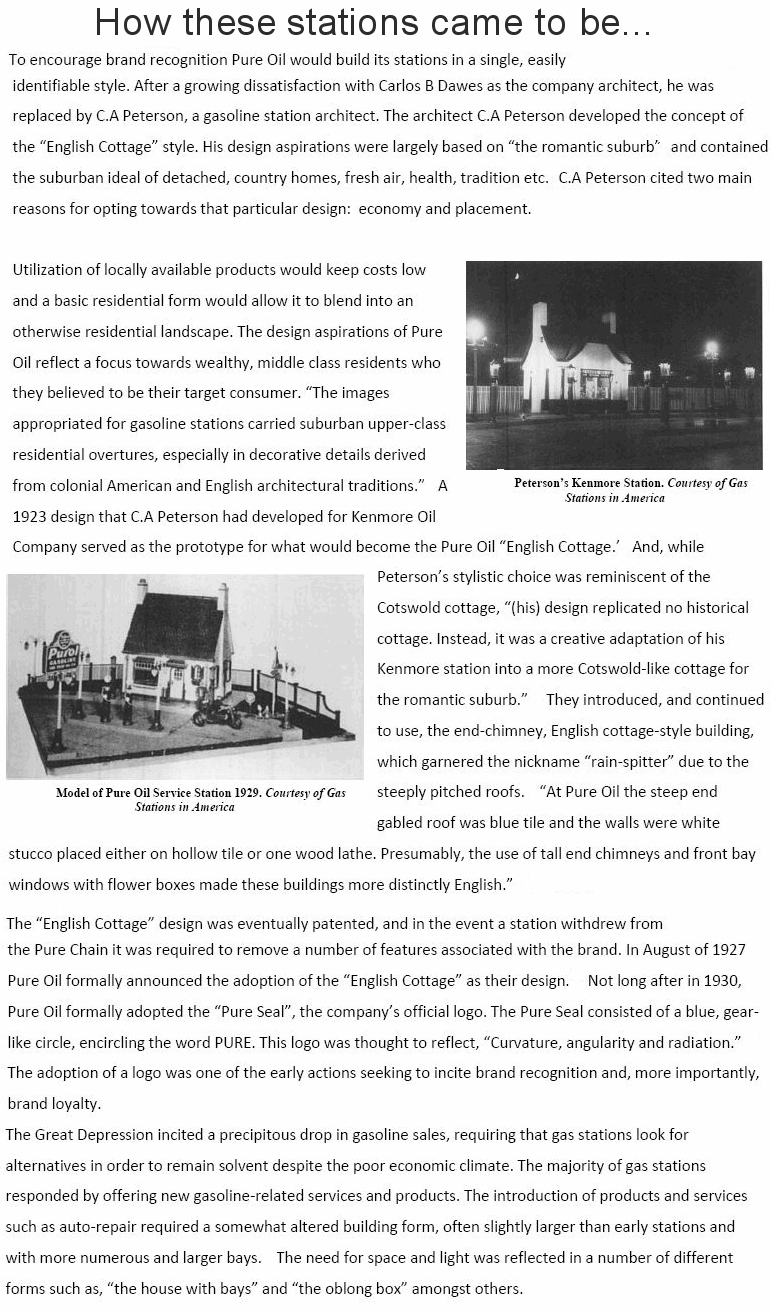 Folks, we've lost too many historical buildings in Charleston, and while some may disagree with this old gas station being historical, check the National Historic Landmark Record and you'll find out different.