Here's what I do know: Conlon had been a part of Charleston and the valley for many years.
They spared no expense on their product and their future. Butter Krust Bread was THE bread
to buy in the early days. And who else would have thought to build such a magnificent building
in 1938? Later, as the competition started to move in, Conlon, like any business started to feel
the pinch I suppose, but with such a powerful Brand, that doesnt explain their demise. All
companies like Conlon (milk companies etc) were Union. There were many strikes over the
years, but that wouldnt explain it either. A couple of serious accidents happened within a couple
of years of each other however. The first was a little girl in Clendenin. She was trying to cross
the road in front of a Conlon bread truck. The driver waved her and her friend across. She was
then struck by a car coming around the truck. Conlon paid $65,000 for injuries, a lot of money
around 1958. Didn't they have insurance? I dont know.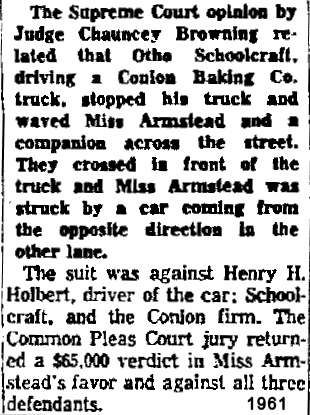 Then, in 1960 a poor boy was killed in a freak accident when a hand pump sprayer he was
using somehow blew apart. The bottle came up and hit him in the face...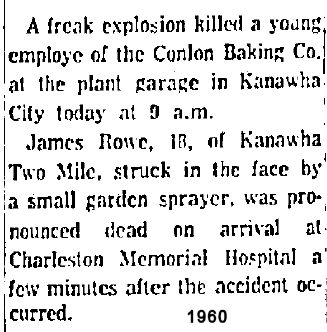 Did these accidents add to the demise of Conlon? Most likely. But I think a combination
of
many things is what probably did it. If you know more, contact me.


In the meantime, Stork Baking out of Parkersburg purchased Conlon.

On December 18, 1962, Conlon and Storck Baking Company entered into an agreement which
gave Storck the option to purchase certain assets of Conlon including the land and
operating assets but not cash, U. S. Treasury bills and bonds and other miscellaneous
assets, and under date of December 22, 1962, Storck exercised the option. On January 3, 1963.

Since Storck wanted to use Conlon's name, effective January 13, 1963, the corporate
name of Conlon was changed to Almath Corporation, but on September 5, 1963, the
stockholders of Almath held a special meeting and unanimously adopted a resolution for
dissolution of the corporation.


Ok, Conlon is history and the building rented out to the WV state welfare office. Later, as
mentioned earlier, the property is bought by City National Bank where it remains today.