LaBabe Corey And The Casa Loma

The Casa Loma was once the most well-known dance establishment in the city. Built in 1940 in Kanawha City, the Casa Loma hosted all the big bands of the day. It was an open air establishment where you could "dance under the stars". That is, unless it rained. In the winter, a temporary roof was erected over the large building. All sorts of events were held at the Casa Loma, from flower & gardens shows to nurses' graduating classes, charities, meetings and dances of all kinds. The Casa Loma was even famous for the "Bunny Hop" dances. Folks enjoyed the Casa Loma from 1940 to 1952.
The Casa Loma didnt look like much from the outside.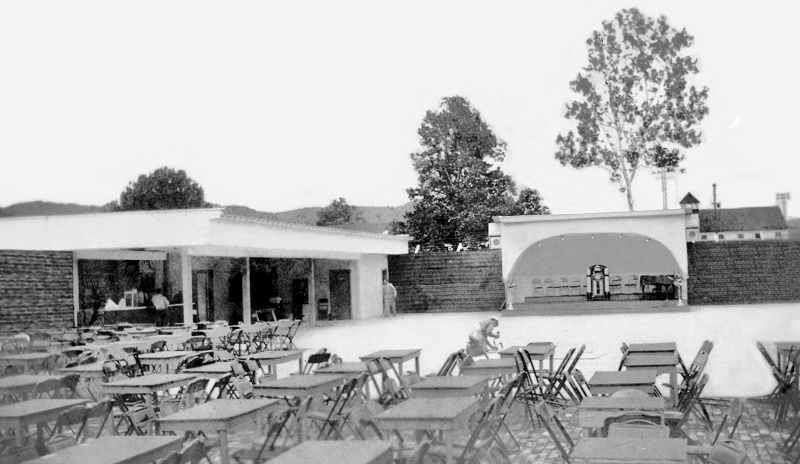 But the inside sported the largest dance floor in the county. See that Jukebox? Lets look closer...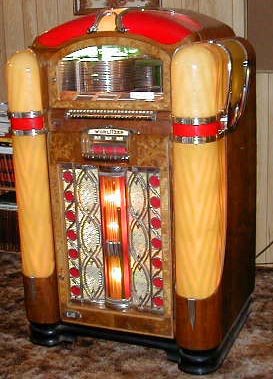 This is a Wurlitzer Model 800 Jukebox. The same type placed in the Casa Loma in 1948. Played 78's.
Big bands were expensive and on their way out, while Jukeboxes were cheap and you played what you wanted.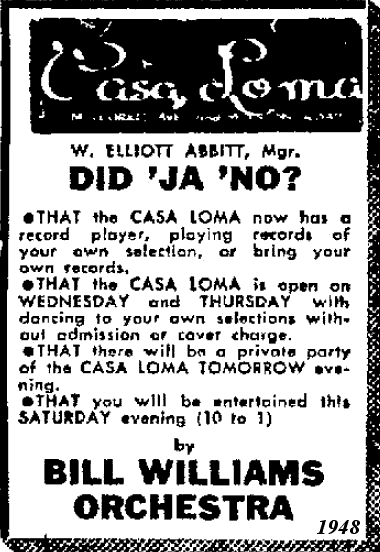 The Casa Loma proudly advertised their new Jukebox in 1948
But before the Jukebox, back in 1941, the Big Bands were the rage...
Here's one on the lesser known Big Bands that played at the Casa Loma: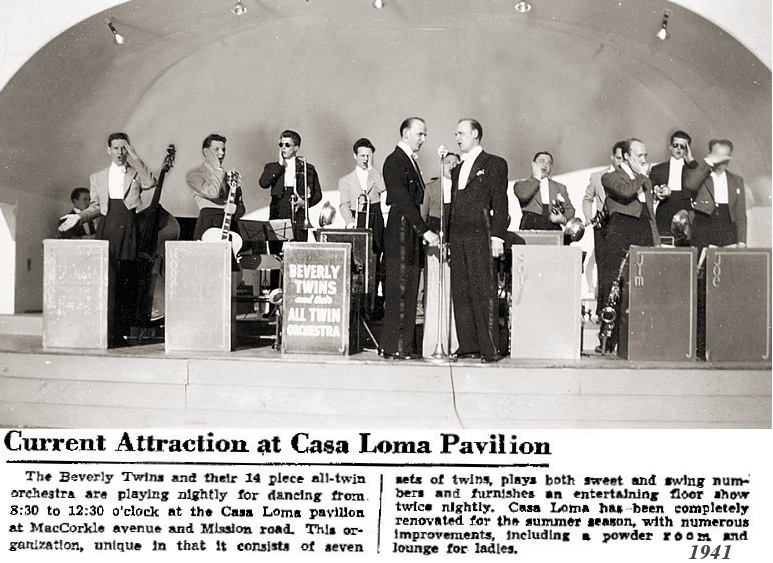 Some claimed that the Beverly Twins orchestra was a gimmick. Of course they were, but not only was the band made up of seven sets of identical twins, ( you seriously could not tell one member from his twin brother) but each musician was very proficient on his twin brothers instrument. When you thought you had identified a band member by the instrument he was playing, they may trade instruments with their brother. But first and foremost they were a great band with a great sound.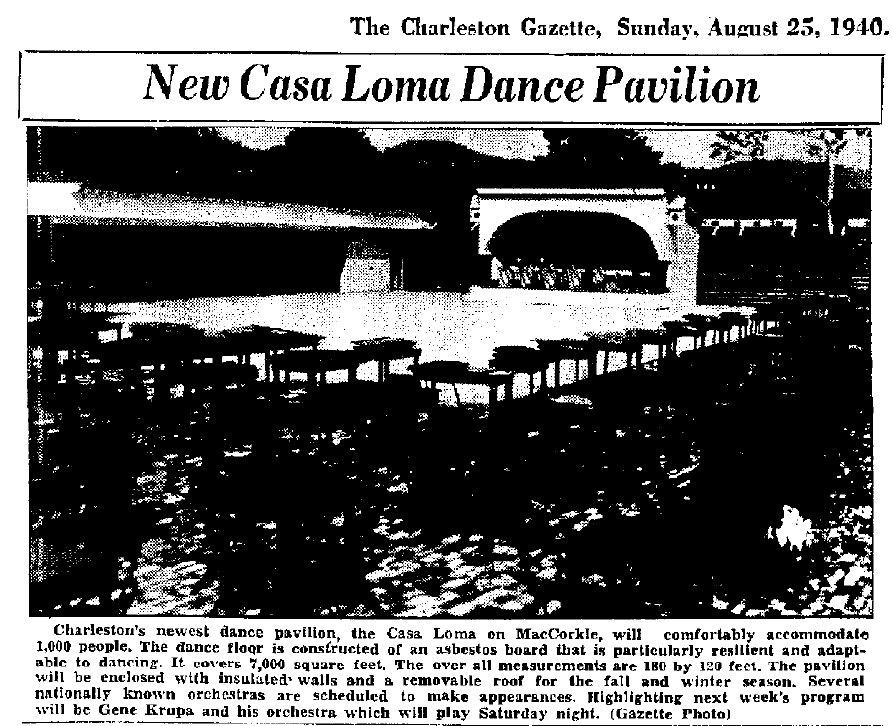 Wonder if that asbestos floor survived the Jitterbug dancers... or vice versa?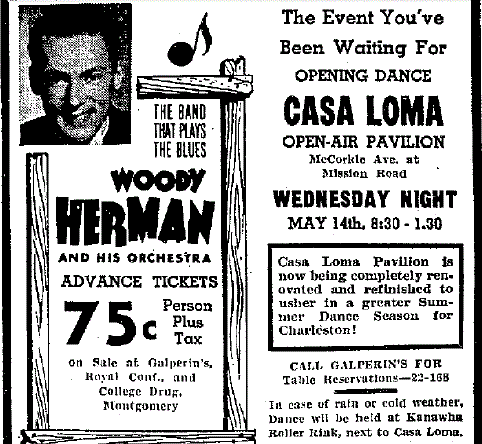 ( The Kanawha Roller Rink had formally been the Riding Stable)
Here is an interesting bit of trivia for you Elkview fans....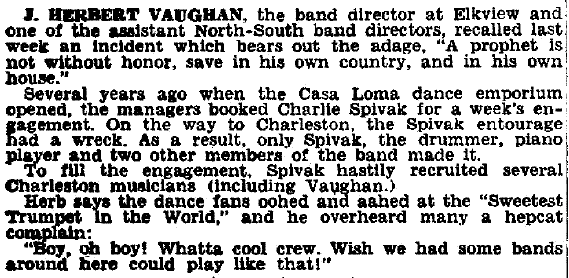 LaBabe Corey was the main investor and builder of Casa Loma. He was a well known businessman who was part owner along with his family of the "Corey's Arcade Fruit Market" on Virginia Street in the old Arcade. Lababe was big into sports and entertainment, along with operating the family business.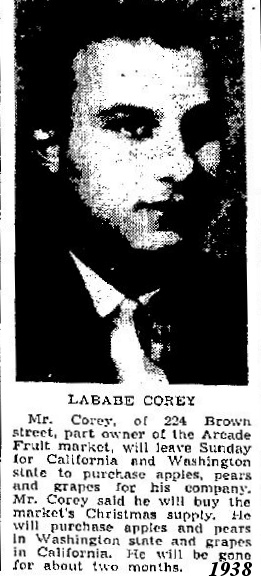 Lababe later moved to Las Angeles California and opened a very large, very successful grocery store.
He purchased a big mansion and invited friends and relatives to visit.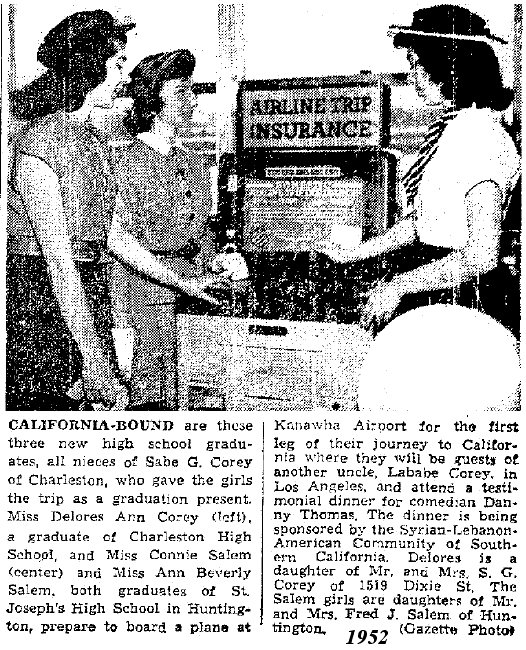 Lababe was written about often in the Charleston papers, and visited the city when he could.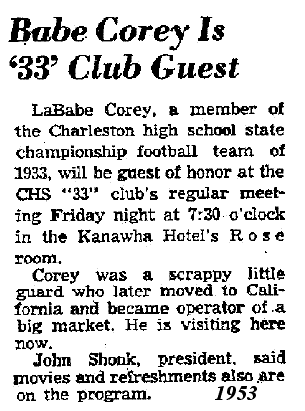 ---