BURLEW OPERA HOUSE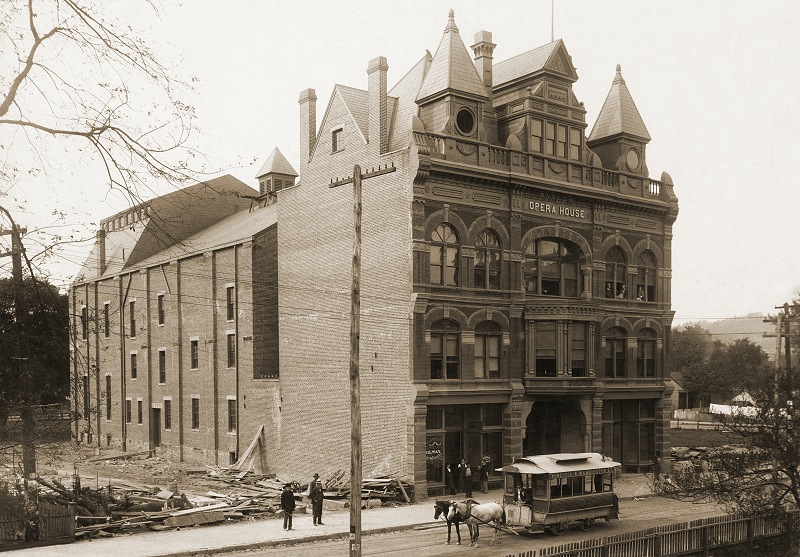 The landmark Burlew Opera House was ahead of its time in many ways, and it brought the finest shows of the ragtime age to Charleston. The stage was so elaborate that live horses could perform on a treadmill to create an illusion of running. Opening on Oct 31th 1891, it had seating capacity for 1,500 and 10 private boxes. 12 elaborate dressing rooms brought the finest troupes in the country to perform. The Burlew was located where O.J. Morrison would later be built, and bricks from the Opera House went into the new building, which still stands today as "Village Place" on Capitol Street.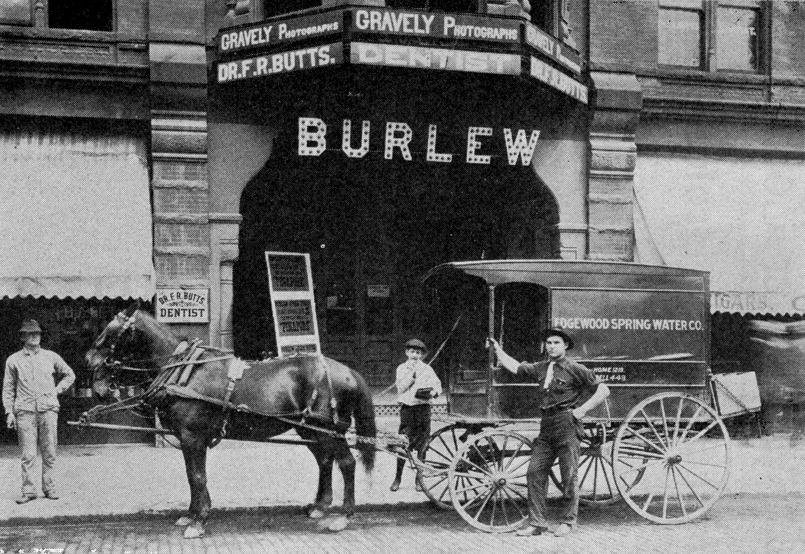 The Burlew Opera House was like hundreds of others across the country when Vaudeville was in it's heyday. Once Vaudeville was no longer in fashion, many houses like this were torn down or converted into movie theaters. This photo however is not actually about the Burlew. It's an Ad for the Edgewood Spring Water Company. Many people think that commercial Spring Water is something new, but it's been around a long time.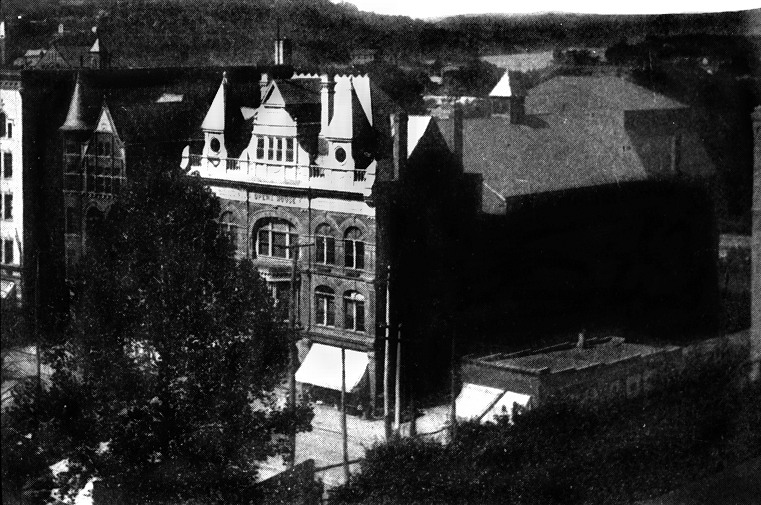 Here is the Burlew on Capitol Street, just about where OJ Morrisons Dept Store would later be built. The buildings to the left are still standing today. The one on the extreme left houses Ellen's Ice Cream. Look elsewhere for photos of Morrisons Dept Store.
From "The History Of Kanawha County"
N. S. Burlew & Co. Are among Charleston's leading business houses, and to visit their mammoth house would only convince you that to-day they are classed with the largest hardware houses in the State. The senior partner of this firm began a retail business on Capitol street in 1878, where he did business for four years, and then removed to his present quarters on Kanawha street. In addition to their large stock of hardware they are agents for the celebrated Fairbanks' Scales and farming implements, and their large establishment is crowded from cellar to garret with the necessary agricultural implements, tools and machinery that our country needs. As an example of what enterprise, combined with business integrity, can accomplish this is an establishment of which Charleston ought to be proud, and they have materially assisted in building up the city. Those dealing with this firm will find them, while looking carefully after the management of their own affairs, gentlemen of pleasant and accommodating manners
TODAY
230 block of Capitol St